Brisbane Airport parking
Brisbane Airport is the main international airport for South East Queensland including the Gold Coast and Brisbane city, and it has more than 31 airlines including China Airlines. There are two terminals, the domestic terminal and the international terminal. You'll need to get the complimentary AIRPARK transfer bus or a taxi between the two terminals, which takes about 15 minutes. Follow signs to the bus stop to transfer from the international terminal to the domestic terminals. It's a short walk from the terminal and the shuttle buses are operated regularly. Our car park providers have drop off points at both of the terminals so you can make the short walk to the check in desks and start your journey. Brisbane Airport is planning on opening a new runway in 2020 as it's an international airport and they want to be able to facilitate more flights, which means the airport will be busier and the demand for airport parking will increase and will be able to offer more international destinations.
The airport has multiple parking lots which are all located at the airport. Every parking lot belongs to a different terminal and has its own colour. This creates an overview that is easy to follow. It is possible to make a reservation online, however, you will pay much more compared to when you make a reservation at one of the parking providers from Parkos. Book online with your credit card to secure your booking.
Compare parking options at Brisbane Airport
Cheap parking at Brisbane airport
Nobody likes paying too much for a parking space, especially when you're travelling and you've spent a lot on the trip itself. Parkos shows you some alternatives to the airport car parks at Brisbane, which can be pricey. Just because it's cheaper than the airport car parks, it doesn't mean that it's not safe and secure. Plus, if you book in advance you can save some money. The car parks are all close to the airport, which means they are cheaper than Brisbane Airport parking, and they can offer you additional services like car wash, or service. This means you can save money because you're within 10 minutes away from the airport and the airport car park's overheads are cheaper. They pass on the saving to you, which means you get to park your car for less.

Location: The parking providers are close to Brisbane Airport in the Gold Coast. The distance to the airport is different for each provider, but they are always small distances so you don't have to spend a lot of time parking. All of the car parks are close to the M1, and less than 10 minutes away. With Parkos you can save a lot of money on your parking space at Brisbane Airport.

Quality: A low price doesn't always mean bad service. You can experience this yourself at the car parks we work with. Quality, and keeping customers happy is important for the car parks. The car parks pay less rent, so they can pass on their savings to you. When you're booking your car park, you'll find that different car parks offer additional options for you, for example you can have your car cleaned. The car park spaces are secure and the costs of parking Brisbane Airport are always low at Parkos, yet you will be offered excellent service. We also offer quality service at Gold Coast Airport and Melbourne Airport.Here you can find authentic reviews of Brisbane Airport parking.
Shuttle parking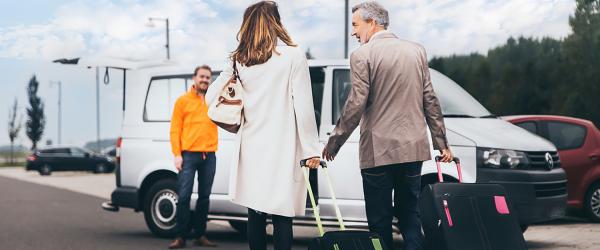 The shuttle parking service is perfect for those who prefer the convenience of driving their own car to the airport. When you choose shuttle parking, simply drive your car to the selected parking lot near Brisbane Airport. From there, a free shuttle bus will transport you directly to your terminal. Rest assured, your car will be safely parked during your trip. Upon your return, just give the parking personnel a call, and they will pick you up and bring you back to your car. It's that easy!
Valet parking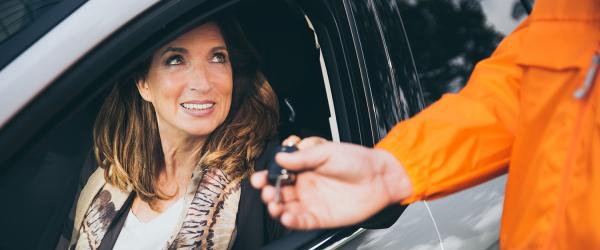 For a touch of luxury and convenience, opt for our valet parking service at Brisbane Airport. With valet parking, you can drive your car directly to the airport terminal. A friendly valet will be waiting to greet you, take your car, and safely park it at our secure parking lot. While you enjoy your journey, your car will be kept in excellent condition. When you return, the valet will bring your car back to the terminal, allowing you to swiftly continue your travels without any hassle. Experience the utmost convenience with our valet parking service!
Parking tips at Brisbane International Airport
We understand that finding a suitable parking spot at Brisbane Airport can be a hassle. That's why we're here to simplify the process for you. With Parkos, you can compare and book airport parking from both independent (private) parking lots and airport-owned parking spaces. We offer three main types of parking options to cater to your needs: shuttle parking, valet parking, and hotel parking. Let us take care of your parking worries while you enjoy a stress-free journey. You can find Parkos at multiple airports including Sydney Airport, Perth Airport, Ballina Airport, Sunshine Coast, Melbourne airport and Darwin Airport.
We have some tips for parking at Brisbane Airport for you:

Compare different providers: At Parkos, we understand that finding the right parking provider can be overwhelming. That's why we offer a unique comparison platform that allows you to easily compare different parking options at Brisbane Airport. With just a few clicks, you can see a comprehensive list of parking providers, their services, and prices side by side. Our user-friendly interface provides all the information you need to make an informed decision. You can compare features such as proximity to the airport, shuttle frequency, security measures, and customer reviews. We strive to ensure transparency, giving you the power to choose the parking provider that best fits your preferences and budget. With Parkos, you can make a confident choice and enjoy a seamless parking experience at Brisbane Airport.

Choose your parking method When it comes to parking at Brisbane Airport, it's important to choose the method that best suits your needs. At Parkos, we offer different parking options to cater to your preferences. Consider the following factors to determine the right type of parking for you:
Shuttle Parking: If you prefer the convenience of driving your own car to the parking lot, shuttle parking is an excellent choice. Simply drive to the parking lot of the provider you booked, and free shuttle buses will transport you to the airport terminal. When you return from your trip, the shuttle bus will be waiting at the airport to take you back to your car. Shuttle parking offers flexibility and ease of access.
Valet Parking: If you value convenience and a seamless experience, valet parking is the way to go. With valet parking, you drive directly to the departure hall at the airport. Upon arrival, a friendly driver will be there to meet you and take charge of parking your car at the designated parking lot. This allows you to save time and check-in immediately before your flight. On your return journey, your car will be waiting for you at the airport, allowing you to continue your journey without any delays.
Parking Options: Consider whether you prefer to park your car inside a multi-storey car park or outside. This choice may depend on your preference for covered or open-air parking. Additionally, take into account the operating hours of the parking provider. If you have specific time requirements, ensure that the parking provider can accommodate your needs. Whether you need short-term parking or a longer period, choose a provider that offers the appropriate options.
By understanding the differences between shuttle and valet parking and considering your specific preferences, you can make an informed decision about the type of parking that best suits your needs. Parkos provides a range of options to ensure a seamless and convenient parking experience at Brisbane Airport. Choose your preferred method and enjoy a stress-free journey from start to finish.

Safety: We prioritize the safety and security of your vehicle. Our parking lots are equipped with CCTV cameras, proper lighting, and trained personnel to ensure the utmost security for your car.

Plan your trip: Before you decide to park your car for a long time at Brisbane airport we advise you to plan your arrival. It might be that even if you aren't driving through the centre, that there are traffic jams or road diversions on the route due to roadworks. Check for any height restriction at your chosen airport car park. So keep an eye on the traffic information and use our route planner to Brisbane airport for a clear route description.
Parking providers at Brisbane Airport
Frequently asked questions
How long in advance should I arrive at the parking space at Brisbane airport?

Brisbane airport advises you to arrive 1 hour prior to a domestic flight and 3 hours prior for an international flight. For parking at Brisbane airport we therefore recommend you arrive 30 minutes to 1 hour prior to the time advised by Brisbane airport. The extra time you should take for parking depends on if you choose shuttle or valet parking.

Shuttle parking

With shuttle parking you drive straight to the airport parking lot. There a free shuttle service will be ready to take you to the airport. Waiting time usually takes no longer than 20 minutes. The transfer time to the airport depends on the distance from the parking to the airport. On average the drive takes approximately 10-15 minutes. All information about shuttle departure times and transfer times can be found on the listing page of the parking you have chosen.

Valet parking

With valet parking you drive straight to the airport terminal. There a valet will be ready to park your car for you. On arrival there will be a quick vehicle inspection and paperwork. This should take about 15 minutes. We suggest you call your valet service 30 minutes before your arrival at Brisbane airport to make sure there is no delay with the pickup of your car, so you can be on your way as soon as possible.

How does the shuttle parking work at Brisbane airport?

Shuttle parking at Brisbane airport has many advantages. With your reservation you have a guaranteed parking spot. It is cheaper than official airport parking and valet parking and the free shuttle will take you directly to the Brisbane airport terminal.

But how exactly does it work? On arrival an employee will greet you and check your reservation and assign you a parking spot. From there on you can make your way to the free shuttle bus. The shuttle will take you to your terminal. Please see the listing page of the parking provider to see the shuttle departure schedule and transfer time. From this point forward you can go through the regular check in procedure.

After you get back from your trip, the shuttle bus will be ready to take you back to your car. Once you have landed and collected your luggage you are asked to call your parking provider. You can find the contact details in your booking confirmation. In the call your shuttle bus driver will discuss the meeting point with you to take you back to your car.

How does valet parking work at Brisbane Airport?

Valet parking at Brisbane airport is quick and easy. With valet parking you don't have to worry about finding a parking spot and parking your car. With this time saving option you drive to the departures lounge. Here a valet will park your car for you after a few routine checks. Your confirmation email contains a phone number for you to call 30 minutes prior to your arrival. This is to ensure that your transfer goes as smoothly as possible and you have no waiting time.

Continue your journey

After you have dropped off your vehicle a free shuttle bus will be available to take you to the airport terminal. The shuttle driver is happy to help you load and unload your luggage. From this point you can go to the check in desk and continue your journey.

On return

Once you have returned from your trip and have collected your luggage it is time to call your parking provider. You can find the number for your parking provider in your confirmation email. In the call you will discuss a meeting point where you will be picked up and taken to your car. Once you get to the parking lot your car will be ready for you at the departures lounge.

Advantages and disadvantages of valet parking

Valet parking has its advantages and disadvantages. We will discuss them shortly below.

Advantages

Time: With valet parking you definitely save time. This is a great option for you when you want to have as little travel time as possible.

Convenience: Valet parking is more convenient. Because you unpack your car at the departures lounge you are very close to the shuttle bus. It's just a short walk with you luggage to the shuttle bus where a staff member is more than happy to help you with your bags.

Disadvantages

Trust: Because your car is parked for you, you'll have to trust the driver to park your car in a save spot. You will also have to leave your keys at the parking lot. At Parkos we don't want you to worry, we only work with trusted parking lots.

Costs: Valet parking is time saving and more convenient. Therefore the service will cost a little more than shuttle service.
Our benefits
All parking lots are carefully inspected
The best deals on airport parking
Free cancellation up until 24 hours
Over 4 million customers globally