We help you find the best parking prices at Brisbane Airport airport
Why you should use Parkos
All of the car parks we list are personally inspected
We guarantee the lowest price
Changing or cancelling your booking is free
We're here to help you
Our experts are here to help you to compare car parks, and can help you with any questions you've got.
Please contact us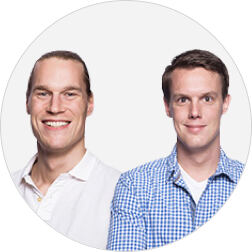 Customers rate our car parking providers with an average of
Customers who have booked a parking space through us, rate these with an average of /10 based on 0 reviews.
Brisbane Airport parking
Are you flying from Brisbane Airport? Maybe you're flying to Kraków airport, Sydney Airport, or Manchester Airport, or somewhere else in the world. Parkos can help you find a cheap, safe and secure car parking space for while you're away. Book online and you can compare all of the parking facilities that our car parking partners offer. Whether you're looking for valet parking, indoor parking, covered parking or shuttle parking at Brisbane Airport we have you covered.
Brisbane Airport is the main international airport for South East Queensland including the Gold Coast and Brisbane city, and it has more than 31 airlines including China Airlines. There are two terminals, the domestic terminal and the international terminal. You'll need to get the complimentary AIRPARK transfer bus or a taxi between the two terminals, which takes about 15 minutes. Follow signs to the bus stop to transfer from the international terminal to the domestic terminals. It's a short walk from the terminal and the shuttle buses are operated regularly. Our car park providers have drop off points at both of the terminals so you can make the short walk to the check in desks and start your journey. Brisbane Airport is planning on opening a new runway in 2020 as it's an international airport and they want to be able to facilitate more flights, which means the airport will be busier and the demand for airport parking will increase and will be able to offer more international destinations.
The airport has multiple parking lots which are all located at the airport. Every parking lot belongs to a different terminal and has its own colour. This creates an overview that is easy to follow. It is possible to make a reservation online, however, you will pay much more compared to when you make a reservation at one of the parking providers from Parkos. Book online with your credit card to secure your booking.
Cheap parking at Brisbane airport
Nobody likes paying too much for a parking space, especially when you're travelling and you've spent a lot on the trip itself. Parkos shows you some alternatives to the airport car parks at Brisbane, which can be pricey. Just because it's cheaper than the airport car parks, it doesn't mean that it's not safe and secure. Plus, if you book in advance you can save some money. The car parks are all close to the airport, which means they are cheaper than Brisbane Airport parking, and they can offer you additional services like car wash, or service. This means you can save money because you're within 10 minutes away from the airport and the airport car park's overheads are cheaper. They pass on the saving to you, which means you get to park your car for less.

Location: The parking providers are close to Brisbane Airport in the Gold Coast. The distance to the airport is different for each provider, but they are always small distances so you don't have to spend a lot of time parking. All of the car parks are close to the M1, and less than 10 minutes away. With Parkos you can save a lot of money on your parking space at Brisbane Airport.

Quality: A low price doesn't always mean bad service. You can experience this yourself at the car parks we work with. Quality, and keeping customers happy is important for the car parks. The car parks pay less rent, so they can pass on their savings to you. When you're booking your car park, you'll find that different car parks offer additional options for you, for example you can have your car cleaned. The car park spaces are secure and the costs of parking Brisbane Airport are always low at Parkos, yet you will be offered excellent service. We also offer quality service at Gold Coast Airport and Melbourne Airport.

Reviews: It's not just our opinion that the car parking providers do their job well, customers say this too. When you return from your trip you'll get an invitation from us to leave a review. With a review you can indicate what you think of the service. Read our Brisbane airport parking reviews here.
Shuttle parking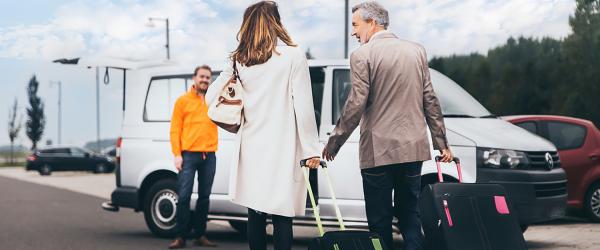 Shuttle parking at Brisbane Airport is one of the different parking types at that Parkos can offer you. If you're planning on using shuttle parking at Brisbane Airport it means that you drive to the car park provider and park your car. When your car is parked properly, a shuttle bus will be waiting for you to take you to Brisbane airport. If you've got bags, then the staff will help you with those. The shuttle bus is totally free, and the price we show on our website is the total price you'll pay and there are no unexpected costs. When you come back there will be a shuttle bus waiting for you to bring you back to your car. If you have a late flight and your flight is delayed, someone will always stay on location. Do you have any questions about shuttle parking at Brisbane Airport? View our frequently asked questions or contact our customer service team.
Valet parking at Brisbane airport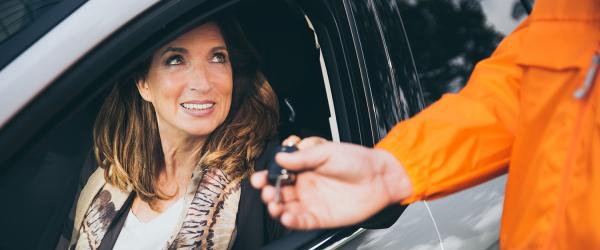 If you want to park at the airport and use valet parking Brisbane Airport you it means you'll get a little extra service. With valet parking, you drive your car to the departure hall where an employee from the car park will be waiting for you. You can find out exactly where the employee will be waiting for you in the confirmation email you get when you have finished your reservation. The email will have the phone number of the driver who'll drive your car to the car park. On the day you come back, your car will be taken to the airport so that you can get into your own car straight away and continue your journey. Has your flight been delayed or changed? Then you can change your reservation for up to 24 hours before departure.
Long-term parking Brisbane
With Parkos, long-term parking Brisbane Airport is a piece of cake. Whether you're traveling for two days or for a longer period, with us you'll always find the best providers. By using our comparisons you can always enjoy the lowest price. All of our car park providers are personally inspected for you so that you can be sure that your car is safely parked at a reliable provider.

Compare between different providers: View our different car parks and choose the provider that suits you best. Think about the choice between shuttle parking and valet parking, the price differences between the car parks, whether or not you want to take your keys with you or not? Do you want a car wash? All these options can make choosing difficult. Make sure you don't make a quick decision, and that you compare the parking providers on our site. If you book in advance you won't be disappointed.

Choose your parking method: there are different ways of parking. Because of this reason, make sure that you are aware of the different services.
If you opt for shuttle parking, you drive to the parking lot yourself, and then you're taken to the airport with the free shuttle bus. The shuttle bus will drop you close to the departures hall. When you come back to the airport, the shuttle bus will be ready to take you back to your car. You drive to the parking lot where your car is parked. Shuttle parking is often the cheapest solution for parking around Brisbane Airport. Cheap parking has never been easier. The car park providers at Parkos are always cheaper than the parking spaces at Brisbane Airport. Book online with Parkos.
If you opt for valet parking, you can drive your car to the airport yourself. At the airport a driver will be waiting for you to pick up your car and take your car to the car park. You get out at the departure hall and are at the check-in desk within a few minutes. When you come back, your car will be ready for you at the airport and you can continue your journey. When you have made the choice between shuttle and valet parking you can also choose between covered parking or parking in the open air.

Safety: Have you compared the various parking providers for parking at Brisbane Airport? Then of course you want your car to be safe and secure. Parkos personally inspects all of the car park locations. We pay close attention to the safety of the car park and the facilities that the site has to offer. Take a look at the safety measures that the car park provider has taken, so you can see for yourself that your car is parked safely and reliably. This means you can travel with peace of mind.

Plan your trip: Before long-term parking at Brisbane Airport, we recommend that you to plan your trip well. This is to stop you from encountering possible surprises. Plan your trip to the airport - for this you can use the route planner to Brisbane airport. Preparing yourself can save you a lot of stress. We advise all of our customers who use shuttle parking to get to the parking lot well before you have to check in. At the parking provider you first have to park your car and then, together with an employee, check the car for damage. When it's busy at the parking lot it can take longer than expected. In the unlikely event that your flight is cancelled, you can cancel your reservation 24 hours before your departure.