Melbourne Airport parking!
Are you planning on flying from Melbourne Airport and were just planning on using the terminal parking at international arrivals or domestic departures? Parkos has found car parks with the best parking facilities during your trip. Comparing car parks for Melbourne Airport is straightforward at Parkos. You can compare all of the different parking options for each of the car parks and make your choice for a Melbourne Airport car park. Reserving and paying online makes it easy to book your parking space. Plus, the parking lots are close to Melbourne Airport which saves you a lot of time and because they are cheaper, you can save money. At Melbourne Airport you can choose to park in short term or long term parking. You can check on our website to find out which low cost car parks are available on the dates that you're travelling.
Melbourne Airport was built in the 1970s and replaced Essendon airport. It's close to the M2 motorway and is sometimes known as Tullamarine. The airport is host to major airlines like virgin Australia. It has four terminals and you can walk to them all. Terminal 2 is the international terminal and the other terminals are for domestic flights. Walking from one end of the airport to the other takes just 10 minutes. It's the second largest airport in Australia with Sydney as the biggest. Like all airports in Australia, there is disabled access, and they can provide you with wheelchairs and assistance.
Compare parking at Melbourne Airport
Cheap Melbourne airport parking
A parking space near Melbourne Airport can easily be booked using Parkos when you're figuring out the details of your trip. The costs for alternative car parks that are on the Parkos website are often lower than when you park at Melbourne Airport itself. Long-term parking at Melbourne Airport is a possibility with the car parks you can find on our website. Making a reservation with Parkos at Melbourne Airport means you get good service for a low price. Book your parking online to avoid the stress of getting to the airport and looking for a parking space. Parkos is availabe at multiple airports in Australia including Sydney airport and Perth Airport.

Location: The car parks are close to Melbourne Airport. The distance to the airport is different depending on where the car park is located, but these are always small distances so you don't need to spend a lot of time parking your car and getting to the airport. You'll save money if you compare offairport parking with one of the car parks we list on our site to parking at the designated airport car parks. With parkos you can save a lot of money on your parking space by comparing your parking options near Melbourne Airport.

Quality: A low price doesn't always mean bad service. You can experience it for yourself at the car parks we compare. Providing quality, and making sure they have happy customers is important for the car parks. The car parks don't make use of superfluous luxury, which means the prices are low for Melbourne Airport parking. More options can also be found at the parking lots, for example at Pink Elephant parking you can have your car serviced. The price of parking at Melbourne Airport is always low cost when you book online with Parkos. Plus, you'll receive excellent service.

Reviews: It's not only our opinion that the car parks do their work well, customers say this too. When you return from your trip, you'll get an invitation from us to leave a Melbourne Airport parking review. With your review you can indicate what you think of the service and leave feedback. Our parking providers have an average of 9.3.
Shuttle parking Melbourne Airport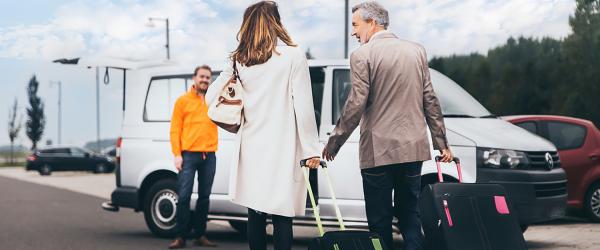 If you choose long-term parking at Melbourne Airport, you can make a choice between two airport parking options: shuttle parking and valet parking. Shuttle parking means that you drive to the location of the car park for self parking and then take the free shuttle bus to Melbourne Airport. The shuttle bus is spacious and transports you and your luggage to the airport. This means that you don't need to walk far or use public transport to get to Melbourne Airport. When you make your reservation, please make sure that you enter the time you expect to arrive at the car park in Melbourne. The car park will take your arrival time into account and make sure that shuttle buses for your airport transfers are ready. When you come back from your trip, a driver will pick you up from the airport and then bring you back to your car. From the car park you can continue your journey.
Valet parking Melbourne Airport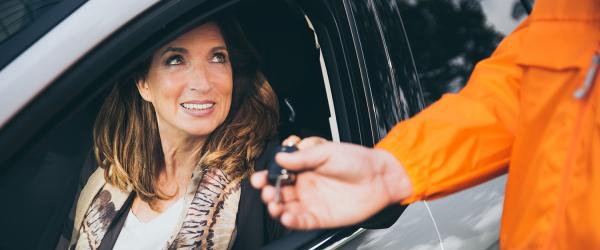 Valet parking means that you'll be driving yourself to Melbourne Airport. You need to let them know your arrival time and time of return at the airport. A car park employee will be waiting for you at the airport when you get there. The employee will recognise your car by the brand, model and the license plate. The car gets driven to the parking lot by the driver. You'll need to make sure you confirm your arrival time by calling the car park. The instructions from the car park in Melbourne are described in the confirmation mail which you'll get when you've completed the reservation. When you return to Melbourne Airport you'll need to call the car park to let the driver know that you've landed. You'll receive your car back at Melbourne Airport and can continue your journey from there. This way of parking is quick and easy. Both shortterm parking and long-term parking are possible at Melbourne Airport. For questions about valet parking or shuttle parking you can check our frequently asked questions.
Long-term Melbourne airport parking
Long-term parking at Melbourne Airport is no problem with Parkos. The best short and long term parking deals and car parks can be found using Parkos On our website you can compare our car parks to make the best choice. Every car park near Melbourne Airport has been personally checked by us. You can be sure that the providers are safe and reliable.
To help you, we'd like to give you some tips for long-term parking at Melbourne Tullamarine:

Compare parking at Melbourne Airport: At Parkos you're guaranteed to reserve a parking space for the lowest price. The costs of parking your car at the terminal parking at Melbourne Airport are always higher than when you park your vehicle at an alternative car park.

Choose how you park: Drive your car to the departures hall or take a shuttle bus from the parking lot. These are the two different kinds of parking that are available at Melbourne Airport. When you're making your choice, it's important that you know the difference between shuttle parking and valet parking.
If you opt for shuttle parking, you need to drive to the car parking lot of the provider and you'll be dropped off at Melbourne Airport. On your return journey you'll be taken back to your car by shuttle bus. You can choose if you want outdoor parking or indoor parking. The shuttle parking service is the cheapest form of parking at the airport.
If you opt for valet parking, you drive to the airport yourself, where a driver waits for you to pick up your car. While the driver parks your car at the parking lot, you can check in at the desk. When you return to Melbourne Airport, whether you're at international arrivals or domestic arrivals, the driver will be ready to hand over your car to you. It's a quicker way of parking. Parkos helps you to make the choice between shuttle parking and valet parking by comparing providers.
Choose your parking facilities: When you're booking your car parks , check to see what parking facilities they offer. Do you need disabled access? Do you want your car washed before you get your car back? These simple things can ensure that you're happy when you leave your car.

Safety: Safety is also important for your car. It would be a pity if something happened to your car during your trip. Parkos has checked all of the providers so you can safely and securely park your vehicle. The car parks that are available at Melbourne Airport take various measures to protect your car, like cameras and fences. When your car is parked at a car park, you can travel without worrying. The parking lots are monitored 24 hours a day, 7 days a week.

Plan your trip: For parking at Melbourne Tullamarine Airport, we recommend that you plan your route to the car park or the airport. We recommend that you keep an eye on traffic information, as it can be unpredictable and sometimes there are roadworks. You can plan your route using the Parkos route planner to Melbourne airport.
Parked from 10/11/23 to 19/11/23
When you source a product and it's delivered in every way from time, price and efficiency you need not look again for a better deal. Nice and friendly people with you in there sight . Will never go anywhere else . LOOK for yourself. Safe travels
Parked from 19/11/23 to 29/11/23
Good overall, quick efficient service and easy to find. My only suggestion would be to get rid of the little bit paper and go electronic or get an app.
Parking providers at Melbourne Airport
Frequently asked questions
How long in advance should I arrive at the parking space at Melbourne airport?

For parking at Melbourne airport, a time frame of 2 hours before your flight is suggested. If you are leaving for an international flight, we suggest that you arrive at your parking spot 3 hours before your flight. In that extra time, you can have your car parked and be transported to the airport stress free.

Shuttle parking

If you have booked a shuttle parking at Melbourne airport, this means that you can use the shuttle service to the airport free of charge. The bus will take you to the airport after you have registered and handed your keys over and/ or parked your car. There may be a small waiting time involved, usually no longer than 20 minutes. All information can be found on the listing of your chosen parking provider on our website.

Valet parking

Valet parking is available at selected parking operators and if you opted for this service, then you will need to arrive at designated arrival point minimum 2 hours before, and for international travel 3 hours. You will be met by an employee to scan your car and ready the paperwork. This process could present some waiting time due to crowds. We suggest arriving well in advance to avoid stress on your travels.

How does the shuttle parking work at Melbourne airport?

Your shuttle parking Melbourne selection will require you to drive your car to the selected parking provider, valet parking would equate to a friendly employee parking your car for you. Most of our partners are in the tullamarine district which means that they are all just minutes away from Melbourne airport . You can skip the craziness at Melbourne airport by using the complimentary shuttle bus provided by all our partners. If you would like to know exactly how far they are from the airport you can check our route planner and details on that listing.

You will be asked to call the parking on your return, once you have landed and collected your luggage. The contact details are provided to you in both your booking confirmation email and by the parking once you have parked. The shuttle bus will make its way to collect you once you have spoken with the parking and confirmed a meeting place.

Traffic information

If you are traveling to Kingsford Smith airport by car, we would like to point out that Sydney airport is a busy location, such that traffic jams occur regularly around the airport. That is why we advise you to pay extra attention when your flight is in the morning or at night during rush hour. Therefore, take a good look at daily busy routes before making your way.

How does valet parking work at Melbourne Airport?

If you have chosen valet parking at Melbourne airport there are a few things to take into consideration. Firstly, the valet parking option still requires you to drive to the parking lot. Once you have arrived, a smiling staff member will park your car for you after you have performed a few checks together. The confirmation email will provide you with a number to call when you are on the way to park so that they can be ready to welcome you.

Continue your journey

Once dropped off at your departure hall by the parkings' complimentary shuttle bus, you simply unpack your luggage, and continue to your check in desk to begin your journey.

On return

On return from your travels it is time to recall your meeting place for pick up. You will call the parking provider on the number given to you in your booking confirmation. Thereafter an employee will make their way to fetch you at the arrivals area.

Advantages and disadvantages of valet parking

There are Proś and Con's to everything. Please see below for our list of benefits and drawbacks to valet parking.

Benefits

Time saving is certainly a benefit to having your car parked for you. You simply drive into the parking lot and jump out of your car, an employee takes over from there and you can continue getting to your travel destination.

Convenience is another benefit that occurs in multiple ways. For example, you get out of your car closer to the reception area, less distance to unpack and carry your luggage and likely more assistance from the staff.

Cons

Trust can be a slight draw back if you don't get a chance to see where your car is being parked. But if it is any consolation, we at Parkos only work with parkings that employ certified drivers.

Cost. As you can imagine this service cost a little more than shuttle parking due to all of it's benefits.
Our benefits
All parking lots are carefully inspected
The best deals on airport parking
Free cancellation up until 24 hours
Over 4 million customers globally